Natural Remedies For Psoriasis: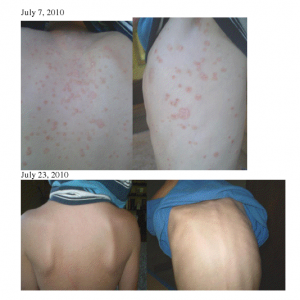 A testimonial from a concerned Mom who has found that Eternity & Fucoydon; two highly concentrated liquid supplements have been effective natural remedies for her son's psoriasis.
3 years ago, our two year old son was diagnosed with psoriasis, an autoimmune disease that affects the skin. Painful, itchy sores covered his entire body including his scalp, inside his ears and on his neck and face. We were given no hope from our Doctor, so we chose to attack it with intense nutrition through diet and supplements. The program was rigorous and hard to maintain, but after 9 months his condition cleared up TOTALLY. We now know that nutrition is directly linked to healing.
We were unsuccessful in maintaining this rigorous regimen, in his life, however and his condition returned 3 years later. This time, we were introduced to the SISEL products, Fucoydon and Eternity. After only 2 ½ weeks on the products, with absolutely no diet changes, the sores on his face and neck were GONE and already beginning to fade on his back. The pictures show before and after results in a 2 ½ to 3 week period of being on these two. natural remedies for psoriasis.  WOW!!!!   He only took the reccommended doses – 1/2 oz. of each daily.
Janet

Psoriasis is a chronic, autoimmune disease that appears on the skin. It occurs when the immune system sends out faulty signals that speed up the growth cycle of skin cells.  We are so excited to see kids lives changing through healthy supplements rather than steroid creams and hormone altering medications!  Way to go Janet!  I am so happy for you and your family, especially your son.
More Testimonials For Natural Psoriasis Remedies
For those of you reading this and wanting more info on FuCoyDon & Eternity, there are several more awesome testimonials of people with psoriasis as well as other autoimmune diseases.
Eternity: Pure Trans Resveratrol, Quercetin, Catechin & Polyphenol Liquid Supplement
Recent research has hinted that Resveratrol can be an effective treatment for psoriasis lesions, acne eczema and other exfoliative skin disorders. Resveratrol has been well-documented to possess anti-carcinogenic, antioxidant and anti-aging properties in countless research studies conducted around the world. It has found its way in diet supplements that have elevated it near-iconic popularity as the wonder drug of the 21st century.
FuCoyDon: Liquid Fucoidan Supplement Containing Super Saturated U, F, G Fucoidan
Fucoidan, "One of nature's most powerful anti-inflammatories!" Fucoidan Seaweed is emerging as one of the most intriguing immune system enhancers of our time, possessing strong inhibitory activity against a number of coated viruses, such as Herpes, Chicken pox (Varicella), EBV and HIV. Its ability to significantly enhance natural killer cell activity also indicates that it can strengthen immunity during the cold and flu season, as well as help protect against formation and growth of abnormal cells. Furthermore, the ability to help maintain cardiovascular and gastric health indicates that Fucoidan Seaweed may be one of the most important substances ever derived from the sea.
Do not hesitate to contact me directly & be sure to subscribe to 7 steps to optimal health, or shoot us an email – dani@daniwalker.com
As I say, "Never doubt that a small group of thoughtful, committed citizens can change the world.  Indeed it is the only thing that ever does!"    How many lives can we change by sharing this story and these amazing alternative medicines?  How many kids will not have to go into hiding or suffer humiliation?  Just think of the impact we can make on this horribly debilitating disease and the mental tole it takes on the 5 million Americans and 7.5 million Europeans suffer with psoriasis!
There is nothing more empowering than witnessing someone else's life change for the better because of your hope & boldness.
To the wellness of the world,
Dani Walker