Symptoms Of Heavy Metal Poisoning
20
posted by Dani Walker on Health Blog
Symptoms of Heavy Metal toxicity from 5 TOXIC Metals
Lead:
Nausea and Vomiting
Headache
Seizures
Anemia
Abdominal pain
Hypertension
Loss of appetite
Sleeplessness
Fatigue
Hallucinations
Numbness
Arthritis
Vertigo
Chronic Lead exposure can lead to :
Birth defects
Mental retardation
Allergies
Dyslexia
Hyperactivity
Weight loss
Muscle weakness
Paralysis
Arthritis
Lack of concentration
Symptoms of Heavy Metal toxicity from Mercury may include:
Fever
Stomach inflammation
Cough
Sore throat
Shortness of breath
A metallic taste in the mouth
Nausea and vomiting
Diarrhea
Headaches
Visual disturbances
Hypertension
Chronic Mercury exposure can lead to:
Mental retardation
Brain damage
Cerebral palsy
Blindness
Seizures
Inability to speak
Kidney damage
Damage to the Central Nervous System
Symptoms of Heavy Metal toxicity from Arsenic may include:
Nerve damage
Nausea and/or vomiting
Diarrhea
Sore throat
Red, irritated skin at the exposure site
Severe abdominal pain
Chronic Arsenic exposure can lead to:
Diabetes
Lung cancer
Bladder cancer
Skin cancer
Burning in hands and feet
Darkening of the skin
Nerve damage
Birth defects
Liver injury
Symptoms of Heavy Metal toxicity from Cadmium may include:
Nausea and/or vomiting
Abdominal pain
Difficulty breathing
Chronic Cadmium exposure can lead to:
Lung disease
Kidney disease
Fragile bones
Hair loss
Anemia
Arthritis
Learning disorders
Migraines
Growth impairment
Loss of taste and smell
Poor appetite
Cardiovascular disease
Symptoms of Heavy Metal toxicity from Aluminum may include:
Memory loss
Learning difficulty
Loss of coordination
Mental confusion
Colic in infants
Heartburn
Flatulence
Headaches
Chronic Aluminum exposure can lead to:
Shortness of breath
Cough
Weakness and Fatigue
Kidney damage
Weakened immune system
Speech problems
Early osteoporosis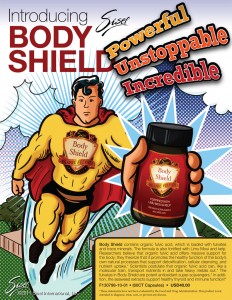 These heavy metals can ALL be found in most mineral based cosmetics – even those that claim to be toxin free.  Click heavy metals to read more about toxins found in personal care products.  If you feel that you may be experiencing heavy metal toxicity you can check our Body Shield, an excellent product to help detoxify and protect your body from heavy metals, radiation & additional environmental toxins.
If you are a women & are looking for 100% toxin free cosmetics be sure to check out Timeless Minerals - The ONLY Guaranteed 100% Toxin Free Mineral Makeup
Your wellness advocate & friend,
Dani Walker
Dani Walker
Dani's passion for people lead her to creating an international business helping people turn their passions into profit through holistic healing and international marketing. Using her families experience with Sarcoidosis she help others live life without disease & debt.
Latest posts by Dani Walker (see all)
Tags: heavy metal toxicity, symptoms of heavy metal poisoning, symptoms of heavy metal toxicity