Data Evolution Is Upon Us
WOWZA what a crazy, awesome, amazing process launching this app is! Data is evolving and people are becoming more and more aware of the immense amount of data being collected by every app, store, card, phone, company, voice activated device, etc.
Data doesn't care and it never discriminates. Every single one of us has a phone, a social media account, uses a navigation app or dating app or banking app, credit cards, alexa, etc. etc. and we CREATE data with every click, swipe, purchase and spoken word.
What we aren't told is how valuable that data is and how all of these apps and companies make money by selling our data to the highest bidder.
What totally infuriates me is that Data is the new oil and yes YOU, ME and IRENE are the ones who create it, GIVE it away to companies that turn around, sell it for a fortune and we get NOTHING.
Well that's not true, we get advertised to because they track every little thing we do.
What EXCITES me is…all that is about to change with our Tapestri app.
App Launch Incoming!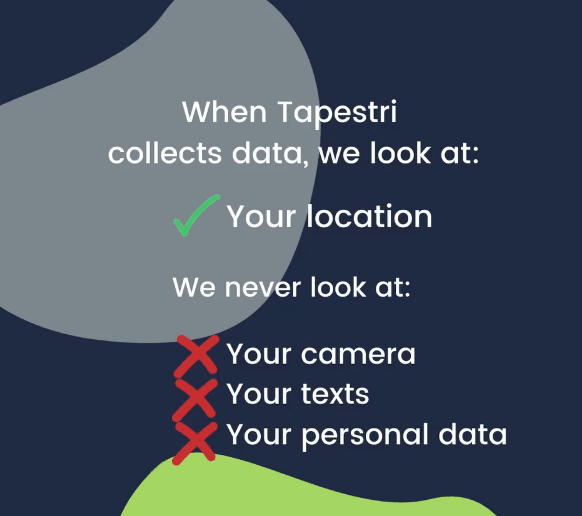 That's right, I'm launching an app. An app that pays you for the data you currently give away. Time to flip the script on all BIG TECH!
My app won't track your camera, your purchases, your contacts, or texts…
What is WILL do is pay YOU for the data instead of big tech! Better yet our app is just pinging your phones location, no other data is being collected. List to the video below for a complete expanation as my business partner turns Tapestri inside out. Tapestri = Transparency.
Data App Launch
Anyone who carries a phone will want to install our app.
It's time for Tapestri to help YOU tap into earnings and cut out big tech all together. They already make enough on us.
Tapestri puts the power in YOUR pocket by helping you earn on the data you currently give to big tech who've been selling it to the highest bidder for years.
1. It's free to install
2. Every user can set it and forget it to earn up to $25 per month simply by activating the app and carrying your phone with you as you do already.
3. Tap A Friend, Earn A Buck: How many friends with phones would like an extra $25 bucks a month? Tapestri pays you you $1 per month per active referral!
Want to be a Beta Tester?