Sarcoidosis Natural Treatment Alternatives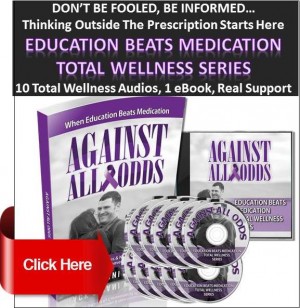 Everyone has begged us to put it all together in one place and after 11 years spent battling Sarcoidosis & 6+ years in remission, we've FINALLY finished our Sarcoidosis survival book & audio series; The Education Beats Medication Total Wellness Series!

This is all the information we wish we had BEFORE Jack was diagnosed with Sarcoidosis in 2004.   Since there was no guide or anything like it for people with Sarcoidosis we had to become our own medical investigators and figure out how to fight this nasty disease from a western medicine and alternative medicine perspective.
If you have Sarcoidosis, consider this your survival guide and know that we are here to offer encouragement and support on your toughest days.  Jack has been in remission since May 2009 using the exact methods we share in our book and audio series and if he can heal, you can too!
Sarcoidosis natural treatment:
Below is just a snippet of years spent researching every option available to overcome this seemingly incurable disease!  May our story inspire you to think outside the prescription and never give up!
We share very openly how Sarcoidosis affected our family from diagnosis to remission and everything in between in the Education Beats Medication total wellness series, click Sarcoidosis Natural Treatment to preview the entire series. 

Our Sarcoidosis Natural Treatment Story:
Jack spent 6 months going back and forth for this test and that test before they finally ruled everything else out.  In August 2004 we got the results back from his biopsy & his diagnosis was Sarcoidosis of the lymph, heart & lungs.
Our first response was "What is that? Is it worse than Lymphoma?"
Jack was only 31 and I, Dani, was 28, both far too young (or at least we thought) to be dealing with a deadly disease and at the time neither of us had ever heard the word, let alone understood it's gravity.  Our boys were only 4 and 8 & all I could think about was raising them alone.
Fear & uncertainty caused us to choose traditional (Allopathic) Sarcoidosis treatment. After all, we knew NOTHING about Sarcoidosis & it is scary to go against the norm, choose not to listen to Drs and find a better way.
So Jack spent the next 3 years going to a Pulmonologist, ENT & Rheumatologist. He took 60mg of prednisone for a year and 40mg a day for another.  He gained 65 pounds in 5 months, could not sleep, was very agitated, etc on top of the chronic coughing, extreme aches and pain, fatigue, granulous tumors (that kept on growing even while on prednisone).   He felt that he knew more about Sarcoidosis than his Drs did and by 2007 he was taking 6 medication & they wanted to add one more!   After 3 years he was left hopelessly searching for some other way and chose to wean himself off prednisone.
Jack chose quality of life over quantity and my journey into becoming a medical investigator began.
As I said before, there was not a Sarcoidosis diet, or natural treatment options that we knew of  so we had to use trial and error to figure out what would help his body fight Sarcoidosis naturally.  I dove head first into the clinical studies, complementary and alternative medicine, and sarcoidosis research in an attempt to prevent my deepest fears of losing my husband.  We were desperate for lasting solutions that would not cause further damage to his already sick body and within 18 months he was in complete remission and has remained so to this day!
What 3 years of medical treatment could not do, natural alternatives did in just 18 months!
You can see the swollen lymph nodes under his chin, as well as the "moon face" caused by taking high dose prednisone for so long.
We dedicate 6 chapters of our book to foods to eat, foods to avoid, healing nutrients, scientific proof specific to each nutrient and it's positive effects, bio-available supplements and exactly how to eat, cleanse, supplement etc to maximum benefit without feeling worse.  (It can be dangerous if not done properly)
Another chapter of the book is dedicated to research on a sulfated polysaccharide extracted from brown seaweed which is believed to be natures most diverse and effective cell signaler & is scientifically proven to stop tumor progression.

This nutrient, called Fucoidan, is on of several supplements Jack took to help his body overcome the damage of multiple prescription and Sarcoidosis.  Just like everything else Jack tried, he committed to each change for 90 days to see what they could do for his Sarcoidosis symptoms.  It is extremely important to commit to any lifestyle change for a minimum of 90 days.  We talk more about why in our book and cover this in depth with Neurological Chiropractors in one of the 10 audio interviews included in the series.
Sarcoidosis Natural Treatment Success: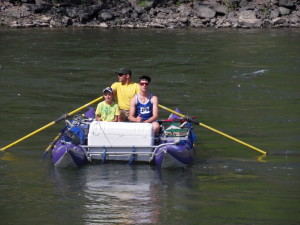 Jack has been in remission since May 2009, is riding his bike and white water rafting again.  He does not have any scar tissue, nor symptoms of Sarcoidosis.  No "flare ups" etc.  We are able to LIVE as a family and enjoy the freedom of great health & have been honored to speak at several Sarcoidosis conferences and group events.  If he can heal, you can too. Never give up hope!
If you are struggling with ANY chronic autoimmune disease get a copy of our book & the audios; Education Beats Medication.  The book comes with 10 audio interviews we did with naturopaths, oriental medicine physicians, certified nutritionists, neurological chiropractors and more while researching and learning how to heal the body.  We paid $1000 to interview these specialists and are so thankful we did.
Now we put all the years of relentless research together to share with you so you can make more informed decisions for your own health and have some HOPE for recovery and living a better quality of life.
To review all that included in the series click Natural Sarcoidosis Treatment.
Thank you so much for letting us share this Sarcoidosis natural treatment information with you.  Please feel free to contact me directly & know that Jack & I are both here to help.